Ariel, a Leonberger dog from Wyoming, lies happily surrounded by her 18 puppies, 9 males and 9 females. Ariel's litter, born in late October, set a new worldwide record for the number of surviving Leonberger puppies in one litter.
Too fat to graduate? Students at Lincoln University with a body mass index of 30 or above, reflective of obesity, must take a fitness course that meets three hours per week. Those who are assigned to the class but do not complete it cannot graduate.
Need tips on saving energy?
Did you know that 43% of your utility bill goes for heating and cooling?
Heating and cooling systems in the United States together emit 150 million tons of carbon dioxide into the atmosphere each year, adding to global climate change. They also generate about 12% of the nation's sulfur dioxide and 4% of the nitrogen oxides, the chief ingredients in acid rain.By combining proper equipment maintenance and upgrades with appropriate insulation, air sealing, and thermostat settings, you can cut your energy use for heating and cooling, and reduce environmental emissions, from 20% to 50%.
Heating and Cooling Tips
Set your thermostat as low as is comfortable in the winter and as high as is comfortable in the summer.

Clean or replace filters on furnaces once a month or as needed.

Clean warm-air registers, baseboard heaters, and radiators as needed; make sure they're not blocked by furniture, carpeting, or drapes.

Bleed trapped air from hot-water radiators once or twice a season; if in doubt about how to perform this task, call a professional.

Place heat-resistant radiator reflectors between exterior walls and the radiators.

Turn off kitchen, bath, and other exhaust fans within 20 minutes after you are done cooking or bathing; when replacing exhaust fans, consider installing high-efficiency, low-noise models.

During the heating season, keep the draperies and shades on your south-facing windows open during the day to allow the sunlight to enter your home and closed at night to reduce the chill you may feel from cold windows.

During the cooling season, keep the window coverings closed during the day to prevent solar gain.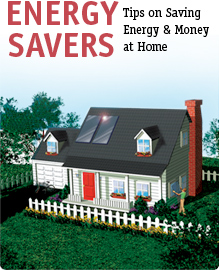 Printable Version
of tips from the
EERE
Google+ Comments