A few days ago, a wonderful blogger friend of mine sent me a link to  the Electronic Frontier Foundation. This is a site devoted to basically, your online rights as a blogger.

If you are ever in question about the legality of something you have blogged about, has been blogged about you, or are just curious about, check this site out.
I don't know who this guy is but, his name is Kevin Smith and he is an actor.
He was also asked to leave an airplane for being 'too fat'.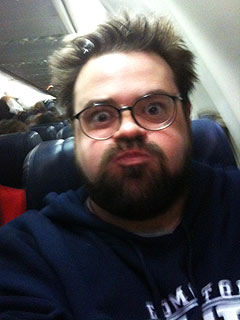 Apparently, he posted on Twitter "You [messed] with the wrong sedentary processed-foods eater!"
He even  purchased two tickets "as he's been known to do when traveling Southwest," the airline noted, but when he decided to fly standby on an earlier flight, only one seat remained. Although he had been seated, he was asked to leave.
"If a customer cannot comfortably lower the armrest and infringes on a portion of another seat, a customer seated adjacent would be very uncomfortable and a timely exit from the aircraft in the event of an emergency might be compromised if we allow a cramped, restricted seating arrangement," Southwest says
"I'm way fat, but I'm not there just yet," and "If you look like me, you may be ejected from Southwest Air." Kevin says
I gotta wonder, if he originally had 2 tickets, did he get to bring twice as much luggage without getting penalized? And, what happened to his luggage?
To be honest, I'm not that big of a person and I had trouble fitting into the seats of the airplane I was flying in a few weeks ago. Yes, I did get penalized for my 30″ suitcase! No kidding. $49.
Remember this guy?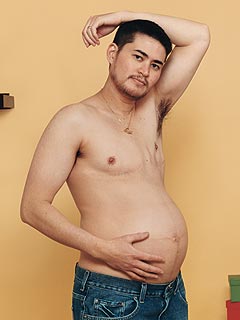 He was a gal, then had the op, and  then got pregnant when wifey could not? Then got pregnant again.
Now, he's pregnant again (#3), according to People. I am one confused person.
A bit of irony….
We pulled the widgets on Sited and Blogged and TheContestHub last week after being the target of a blogger  with some not so nice accusations concerning 'Ghost Droppers'.
Guess what- we must be haunted because both sites got dropped on!
And guess what else- WE DON'T CARE!
ha ha ha ha
Google+ Comments