I love Fridays…
There is so much to do. Aloha Friday, Friday Followers, and The Dating Profiles meme.
Before I get started, I just want to let you know that I did get an iPhone. I went in for the Blackberry and the gentleman at the store talked me into the iPhone because of what my needs were. And, he threw in a FREE Samsung for my son. Woohoo! Thanks for all of your suggestions and help!
What do you do to be happy?
I just read this article on Oprah.com, 5 Things Happy People Do.
Here is a summary;
1. They find their most golden self.
Picture happiness. What do you see?
2. They design their lives to bring in joy.
It may seem obvious, but "people don't devote enough time to thinking seriously about how they spend their life and how much of it they actually enjoy," says David Schkade, PhD, a psychologist and professor of management at the University of California San Diego.
3. They avoid "if only" fantasies.
If only I get a better job…find a man…lose the weight…life will be perfect. Happy people don't buy into this kind of thinking.
The latest research shows that we're surprisingly bad at predicting what will make us happy. People also tend to misjudge their contentment when zeroing in on a single aspect of their life—it's called the focusing illusion. In one study, single subjects were asked, "How happy are you with your life in general?" and "How many dates did you have last month?" When the dating question was asked first, their romantic life weighed more heavily into how they rated their overall happiness than when the questions were reversed.
4. They put best friends first.
It's no surprise that social engagement is one of the most important contributors to happiness. What's news is that the nature of the relationship counts. Compared with dashing around chatting with acquaintances, you get more joy from spending longer periods of time with a close friend, according to research by Meliksah Demir, PhD, assistant professor of psychology at Northern Arizona University.
5. They allow themselves to be happy.
As much as we all think we want it, many of us are convinced, deep down, that it's wrong to be happy (or too happy). Whether the belief comes from religion, culture, or the family you were raised in, it usually leaves you feeling guilty if you're having fun.
So, my question for you is,

what do you do to be happy?

Have you ever thought about being happy or is this something you've forgotten to do?
The Dating Profiles Meme: Here Comes the Sun
1. I love the sun, it goes great with the beach.
No kidding….
2. If I had it all to do again, I would do it all again, because we do our best given the circumstances and for the most part, life is good.
Do what again? Step in what you just stepped in?
3. I'm looking for someone that's somewhat active.
Here we go again kiddies…..check the local humane society…
4. I'm not a materialistic person, although, I'll admit, sometimes it's nice.
What? Materials? I'm quite partial to the ones that cover my body.
5. Relationships are a two way street. Anything will be fun, as long as I'm with the right person.
Lucky mommy….
6. Im a unique Honest latina looking for the last love of my live.
Dude….I'm seeing facial hair here…
7. I treat people the way I want others to treat me and looking for the same because life is too short to be alone and we have no promises for tomorrow.
Could be why you're 40 and still single….
8. Not looking for garbage.
Not surprised….
9. I am against liers, crazy online people, loosers, BLIND DATES, a plane ticket ,game players or insecure people online.
I'm sure the feeling is mutual.
10. It's easier to go down a hill than up it… But the view is much better at the top.
Then by all means…don't let me stand in your way….
………………..
Yikes…who does this look like???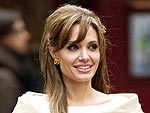 It's not Sarah! It's Angelina Jolie!
………………..
Welcome Friday Followers!
If you are new here, please let me know how I can reciprocate the follow. If you've been here…done this…THANKS! for coming back!
Need a Blog Makeover???
You can win one here!

Google+ Comments