Did ya know…
'Stewardesses' is the longest word typed with only the left hand.

And 'lollipop' is the longest word typed with your right hand.

No word in the English language rhymes with month , orange, silver, or purple.

' Dreamt' is the only English word that ends in the letters 'mt'.

our eyes are always the same size from birth, but our nose and ears never stop growing.

The sentence: 'The quick brown fox jumps over the lazy dog'

uses every letter of the alphabet.

The words 'racecar,' 'kayak' and 'level' are the same whether they are read left to right or right to left.

There are only four words in the English language which end in 'dous': tremendous, horrendous, stupendous, and hazardous.

There are two words in the English language that have all five vowels in order:'abstemious' and 'facetious.'

TYPEWRITER is the longest word that can be made  using the letters only on one row of the keyboard.
A cat has 32 muscles in each ear.
A goldfish has a memory span of three seconds .(Some days that's about what my memory span is.)
A 'jiffy' is an actual unit of time for 1/100th of a second.
A shark is the only fish that can blink with both eyes.
A snail can sleep for three years.
Almonds are a member of the peach family.
An ostrich's eye is bigger than its brain.
Babies are born without kneecaps.
They don't appear until the child reaches 2 to 6 years of age.
February 1865 is the only month in recorded history not to have a full moon.
In the last 4,000 years, no new animals have been domesticated.
If the population of China walked past you, 8 abreast, the line would never end because of the rate of reproduction.
Leonardo Da Vinci invented the scissors
Peanuts are one of the ingredients of dynamite!
Rubber bands last longer when refrigerated.
The average person's left hand does 56% of the typing.
The cruise liner, QE 2, moves only six inches for each gallon of diesel that it burns.
The microwave was invented after a researcher walked by a radar tube and a chocolate bar melted in his pocket.
The winter of 1932 was so cold that Niagara Falls froze completely solid .
There are more chickens than people in the world.
Winston Churchill was born in a ladies' room during a dance.
Women blink nearly twice as much as men.
ALSO
Yesterday in Sunday Stealing, there was a question concerning blonds.
29. My favorite blonde is:

Oh, forgot, I'm blond again. Is it blonde or blond?
The Gal Herself  was nice enough to inform me
"Blonde" is feminine and "blond" is masculine. Thank you for giving me the opportunity to use that bit of information that's been rattling around in my head for years.
Who knew we had that in the English language? I'm like a million years old and didn't know it. Thank you The Gal Herself!
Did you know that there is now Organic Chocolate Milk?
I once mentioned that hubby enjoys his chocolate milk and during the winter months he will hog up the top shelf of the fridge with it. So, one of my readers sent us some coupons for a new Organic Milk.
What is Organic Milk?
Since 1991, Horizon™ has produced wholesome and delicious organic dairy products. Horizon Organic® products are produced without antibiotics, pesticides or cloning, from cows not given added growth hormones. The company says:
"You can feel good knowing our products:

• Carry the USDA certified organic seal
• Are produced in partnership with nearly 500 family farms
• Help convert more land to earth-friendly organic agriculture
• Support kindness to animals and the environment"
Interestingly enough, this chocolate has DHA Omega 3 as well.
Why is this important?
DHA belongs to a category of healthy fatty acids known as Omega-3's. Found in high concentrations in the tissues of the brain and eye, DHA Omega-3 is thought to help support healthy function in these areas. DHA has also been shown to help support heart health.
• DHA provides a nutritional boost for children's growing minds and bodies. Children's brains grow incredibly fast. In fact, the brain nearly quadruples in the first five years of life.
• DHA is a key structural component of the brain, yet many young children don't get their recommended DHA from common dietary sources like fish.
Horizon Organic® Milk Plus DHA Omega-3 is fortified with a natural, 100 percent vegetarian and sustainable source of DHA – a safe, wholesome, delicious way to bring more of this important nutrient into your family's diet.
I know, everyone want to know what hubby thought of the chocolate milk.
He really liked it. He thought the taste was a step above his normal brand and will be purchasing this one in the future.
Think this is something you would like to try?
Well, you can as the company has given me permission to host a giveaway with 3 Winners, each winner receiving 2 free coupons for a half gallon and 2 coupons for $1.00 off. One of the 3 contestants will win a red Horizon Organic branded ChicoBag.
If you are interested in tasting this milk with the opportunity of winning cool stuff- click here to visit TheContestHub.
…………
now on with the show…
"Welcome to
Monday Mayhem
. This week
Mayhem
is locked up in a jail cell some place in Illinois. You might ask why? Well it went on a stealing binge this week. It passed go and didn't collect the $200.00. Rather it went right to jail. You can get it out of jail by answering each question and sending a Margarita to
Harriet
. Cheers!
MAYHEM GOES STEALING
From 2nd Cup of Coffee:
1. When you were a kid, what did you want to be when you grew up?
A mommy. Guess it worked.
2. If you had one word to describe yourself , what would you choose?
Mom.
From Sunday Stealing:
3. You have been given the opportunity to create the half-hour TV show of your own design. What is it called and what's the premise?
The memers.  It would be a reality show with the premise being to follow the memers as they write, and or, complete memes . Ha ha- could you imagine certain people???
4. You discover a beautiful island upon which you may build your own society. You make the rules. What is the first rule you put into place?
Respect the other residents including animals.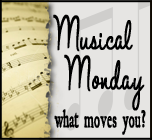 From Good Mourning Glory!:
5. This weeks theme if Four Seasons. Share a video.

Are ya feeling the culture?

From Saturday 9:
6. What age would you encourage your children to get married?
Before 30….
7. Who got married at the last wedding that you attended?
I can't even remember but, my niece just got engaged.
8. Do you enjoy weddings and receptions?
Just the cake 🙂 well, and booze
From Thursday Thunks:
9. Your thoughts on truck drivers?
They drive stuff to places where I can spend money to buy em.
10. What is in your kitchen sink right at this very moment?
A stopper.
Thanks for playing. See you next week!
Thanks Thom for a nifty MM!
Hey- if you are participating in the April Comment Challenge update your button.
Some dummy misspelled something on the button and had to re-do it. duhhh
the code is on my sidebar.
Google+ Comments