Guess who is engaged with her 8th hubby to be…
Yep, that's right, Liz.
78 year old Liz Taylor.
And, hubby to be is a 49 year old businessman.
The scorecard you ask?
Taylor has been married eight times before, twice to Richard Burton.

Her exes are: Conrad Hilton (1950-51), Michael Wilding (1952-57), Mike Todd (1957-58), Eddie Fisher (1959-64), Richard Burton (1964-74 and again 1975-76), Sen. John Warner (1976-82) and Larry Fortensky (1991-96).

Taylor was widowed in 1958 when husband Mike Todd died in a plane crash. All of the other marriages ended in divorce. Taylor had two children with Wilding and one child each with Todd and Burton.
I'm DVR stupid…
That's right.
I got my new cable box and it came with a DVR. The DVR came with no instructions. I don't even know if it's an add-on feature. There was a 'video' available showing how to use it and I watched it several times. Is this some special service?
You think I've got problems, Nicolas Cage has one big fat problem.
I like him and his movies but, they say that the debt-ridden movie star, Nicolas Cage, has lost his Bel Air mansion to foreclosure this week. WTH? Doesn't this guy make like millions a year?
Citibank is the sole owner of this $10.4++++ home…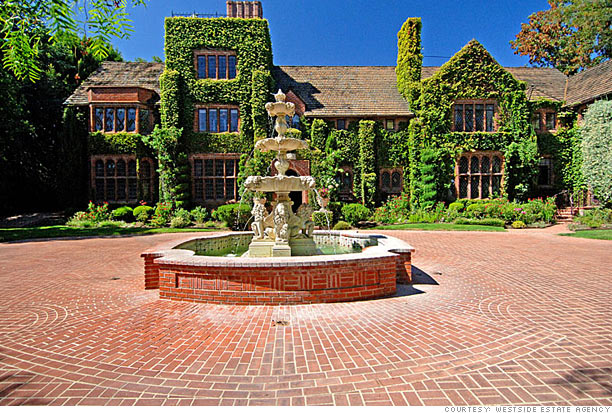 Saturday 9: Have I Told You Lately That I Love You
1. When was the last time (in a romantic setting) have told someone that you loved them?
Someone just asked me this like an hour ago.
It's not romantic but, (sickos)
I tell my father every time I speak to him. Even though he has no idea 10 minutes after I say it, I never know when it will be the last time that I get to say it.
2. Tell us about your very first romantic kiss.

I have no idea….
must have been with Paul Newman, but who can verify this? Guess I'll just roll with it.
3. What was/is your idea of the perfect date?
You mean the kind you eat? Yuck.
4. What music would you prefer when you are "getting it on"?
Music? You can do that?
5. What is the most amazing experience you've ever shared with a partner?
Childbirth X 2
6. Sex is best saved for: love, marriage, alcohol, days that end in "y"?
What?! Did Bud write this?
7. Have you ever kissed a stranger?
Who isn't strange these days?
8. What's missing from your life?
I wish it were about 10 pounds….
9. Are you a giver or taker?
There is nothing out there for me to take so, I guess I'm a giver.
Google+ Comments