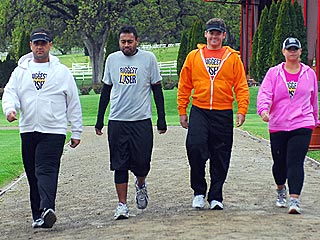 This season was a good one on The Biggest Loser. The contestants we the largest group ever and we genuine people. In the end, it came down to Michael from Chicago. He had been the largest contestant ever , starting out at 526 pounds. He lost a total of 264 pounds- half his body weight.
I was also rooting for Ashley. She had lost 183 pounds after starting out as the largest female ever on the show (374 lbs).
."At 374 lbs., I felt trapped," says Johnston. "I just felt so encased, and that wasn't who I really was on the inside. I feel like I am me now to the core."
Koli won the at-home prize of $100,000 when he weighed in at 188 lbs. He lost a total of 215 lbs.after starting off at 403 pounds. It's amazing!
Did you watch Idol?
"American Idol" was a lovefest, with Crystal Bowersox getting a big share of the affection Tuesday.

Bye bye Simon
Today we picked Simon Cowell. Here's Wednesday Wickedness!

1. "If your lifeguard duties were as good as your singing, a lot of people would be drowning." How well do you swim?
Quite well actually.
2. "I think he knows how to articulate something that people are entertained by and still be true to the message he's trying to send, … very aware of himself." How self aware do you think you are?
As much as I need to be …

3. "If you've got a big mouth and you're controversial, you're going to get attention." Who has a big mouth that you like?
Nobody.
4. "I think you have to judge everything based on your personal taste. And if that means being critical, so be it. I hate political correctness. I absolutely loathe it." Do you believe in political correctness?
I believe in Karma.
5. "I find Paula patronizing. It's as simple as that. Paula is more damaging than I am to these contestants because a lot of people just shouldn't be singing for a living." Do you ever patronize people?
I'm patronizing Paula right now.

6. "Not everybody is perfect, and I don't think we should be looking for perfect people." Do you or someone you know strive constantly to be perfect?
At my age? We've pretty much learned those kind of lessons
7. "I never want to hear that song again. I cannot stand it. I'm allergic to it." What song are you totally sick of and why?

Sad Sad Simon.
8. "I like the fact that they're cocky now from the age of four." How old were you when you got cocky? What changed to make you so?
Never been cocky. I'm a girl
9. "And there's more open hostility among them because the competition is so intense." When you compete with someone, have you ever gotten hostile?
I'm a grown up and don't feel the need to be hostile.
10. "Why are you having a normal conversation with him? This is a dairy farmer dressed as a woman." Do you talk differently to someone because of the way that they are dressed?
If it's a cop- yes.
Google+ Comments