I'm sorry, I am tired about Lindsey Lohan, her preferred sex of the week, her partying, stealing fur coats from coat rooms and most of all, the  arrest warrant issued Thursday morning which has since been withdrawn. While the regular people, us, would have been tossed into the slammer, she had her people post her $100,000 bond . She couldn't find her passport??? Did you check the dirty party floors that keep popping up on the internet with face snuggled to them?
Unlike us, the media says she has been partying it up in France all week. A rep  for the South of France's VIP Club, told E! Online. "She had a great time. She was dancing on the banquette and laughing and joking with her friend." "probable cause to believe (Lohan) is in violation of probation" from a 2007 drunken driving conviction."Lindsay was drinking Dom Pérignon, Cristal Roederer champagne and Belvedere vodka." Opps…Lindsey was having to much fun to appear in court on a DUI charge…   She must be making some serious residual cash to maintain this lifestyle…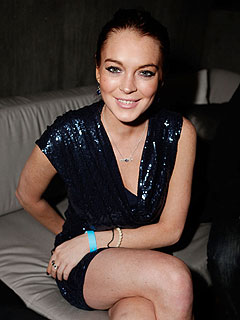 Now for the good gossip….
50 year old, hot mama, Valerie Bertinelli is getting married to her bf of the past 5 years. He's a businessman.
Talk about weight loss goddesses, have you seen Jennifer Hudson?
She was  a size 16. Now Jennifer Hudson is a size 6 body, telling PEOPLE, "I'm in the best shape of my life!"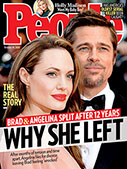 She had a baby boy last August and will soon play, in her  next movie role, Winnie Mandela. "Whatever it takes to morph into a character I'll do it," said Hudson.
How'd she do it?  Portion control through Weight Watchers' point system (Hudson became the official spokesperson for the weight loss plan earlier this year).

John Travolta and Kelly Preston are expecting. You're telling me…Preston is 47!
"It's impossible to keep a secret … especially one as wonderful as this," they say in a statement. "We want to be the first to share this great news with everyone that we are expecting a new addition to our family.
Love, John, Kelly and Ella"
…
This is not gossip but, I had to mention it…
Have you ever enjoyed this candy? It's all over the place especially during the holiday season.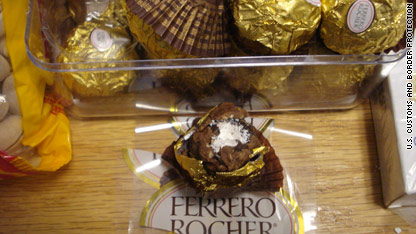 Someone is accused of trying to smuggle in 15 pounds of cocaine concealed in these chocolate candies and pistachios. Genius was arrested at New York's John F. Kennedy International Airport on May 11. No word on what happened to the candy.

Saturday 9: Upside Down
1. When was the last time that you felt your world got turned upside down?

The first time my server got hacked last month.
2. Should the United States do more to help its own citizens before helping people in other countries?
Define 'helping'. Are you talking about health care or about political asylum from drug lords who rape and murder?
3. What was something you memorized for school and still can recall?

Eldorado
Gaily bedight,
A gallant night
In sunshine and in shadow,
Had journeyed long,
Singing a song,
In search of El Dorado.
But he grew old —
This knight so bold —
And — o'er his heart a shadow
Fell as he found
No spot of ground
That looked like El Dorado.
And, as his strength
Failed him at length,
He met a pilgrim shadow —
"Shadow," said he,
"Where can it be —
This land of El Dorado?"
"Over the Mountains
Of the Moon,
Down the Valley of the Shadow,
Ride, boldly ride,"
The shade replied —
"If you seek for El Dorado."
4. With what types of people do you tend to associate?
The breathing kind.
5. Besides blogging what is the last creative thing that you've done?
I just now fit an extra ice cube in my drink.
6. In nature, what outdoor activities do you enjoy the most?
Running.
7. When was the last time that you had a great belly laugh?
When someone in my house took his shirt off and exposed his stomach.
8. What kind of fashion-sense attracts you?
9. What traits in others turn you off?
Repeat questions for starters.
Google+ Comments