What are you eating this summer?
I just found
Check out the yummy looking sandwiches. I like this one-
Café Muse's Grilled Cheese Sandwich
Recipe courtesy of Greg Reyner at Café Muse
Ingredients:
Café Muse's Grilled Cheese Sandwich
1 slice Havarti cheese
1 slice mozzarella cheese
1 slice Danish fontina cheese
1/2 Tbsp. butter , softened (for best results, use high-quality butter)
Honey from a squeeze bear bottle
1 tsp. fresh basil , chopped
2 slices tomato
2 slices bread (organic multigrain bread works best)
Sauté pan large enough for 2 slices of bread
My question for you is…what's your favorite summer sandwich?

I'm a tuna salad lover….I really like the tuna salad from the deli at Meijer but,
I'm not there much so I will settle for Walmart's.

…
The Dating Profiles Meme: Going to the Dogs
1. Besides working a full time job during the week, gym at a minimum of 3 times a week, I also work a part time job on the weekends at a doggie daycare/kennel (Love it). It might seem busy however I do make time for my family, friends and my dog – they are the most important.
Great. Maybe you'll find a nice bit$%.
2. Are you the one?Nope.
3. not into game players cheaters or being lied to.
Great.
4. Simply is the best of me, sincere, caring, conservative person.

Great again.
5. I am looking a nice person who is willing to go out on weekends or stay in.

Keep looking.
6. Looking for an honest one.

While we are on the subject of honest….I honestly don't care.
7. I must have someone who is willing to accept me for the way I am and not someone who wants to morph me into that perfect someone, cuz let's face it-the perfect someone does not exist.
Is that why you're 40 and single?
8. I will pretty much eat anything.

no comment.
9. I don't like alcoholics.

I'm sure it's mutual.
…
It's Friday!
…..
Friday Follow: Building Friendships One Blog at a Time – June 25th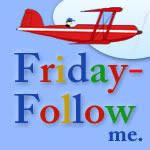 Welcome to the 5th Friday Follow hosted by our awesome hostesses, Kmama at The Daily Dribbles, Elizabeth at The Crafty Charlestonian, and Brittany Ciara at Not Your Average Teen. Thank you ladies for being willing to host! Please stop by and see these awesome ladies.
We invite you to join us every Friday to get more blog followers and to find many interesting blogs that you like. This is all about sharing and having fun.
We expect you to be on your honor and to have fun. These are only guidelines to make it more enjoyable for you. Here's how YOU can join the Friday Follow celebration:
Link up your blog below.. One Link per blog
Grab our Friday Follow button include on your side bar, or post.. grab the linky information if you want it
Follow the Friday-Follow blog and the hostesses in slots 1, 2 & 3 that have volunteered today to host
Follow the blogs you want, leave comment saying you are from Friday Follow – use common courtesy
No spammers, or xxrated blogs – family friendly
If you need more guidelines about following see Friday-Follow.com
This list is new each week and closes on Saturday at 11:59pm EST. The links do not carry over. Please link up each week for new participants to find your blogs. It will be visible all week to visit the blogs listed.
Congratulations to our first Three Friday Follow Winners!!!
Each week we will randomly draw from three (3) blogs from the links for the next week's Friday Follow, and each blog chosen will be placed in the highly coveted number #7, #8, and #9 position on the blog hop. The first blog chosen will also be given the option of doing an interview which will post on Friday-Follow.com on Thursday the next week. We love your participation and want to give back to you! You could be next!
This week's Friday-Follow sponsors is Kim from Whimsical Design.
Kim is offering a blog design giveaway to one (1) lucky person/flyer. Thanks Kim for your support. Please be sure to stop by and say hi!
Want to Sponsor a Friday-Follow and be seen by thousands? Click here.
Want to advertise on our site and be seen by thousands of people? If you sign up TODAY Advertising is $5 per spot. You must sign up today to qualify. This offer expires at midnight CST. Ads normally cost $10. Find out more information.
Spread the word about Friday Follow by grabbing our button for your blog and linky and come celebrate again every Friday. Feel free to also send out a tweet, blog, stumble or share the news in your own special way!
If you are interested in being a sponsor for Friday-Follow, please fill out the sponsorship form here.
Thank you for joining us. Have fun!
Google+ Comments