Oil has been gushing since April 20th!
It's June 4th!

According to government estimates. that  between 21 million and 46 million gallons of oil has spewed into the Gulf.
The Obama administration sent BP a "preliminary bill"   for $69 million to reimburse taxpayers for cleanup costs
The Small Business Administration now has a program to provide low-interest loans to coastal businesses while they await BP compensation.
The U.S. Fish and Wildlife Service reported 522 dead birds — at least 38 of them oiled — along the Gulf coast states, and more than 80 oiled birds have been rescued. It's not clear exactly how many of the deaths can be attributed to the spill.
A detailed computer modeling study  indicates that oil from the massive spill in the Gulf of Mexico might soon extend along thousands of miles of the Atlantic coast and open ocean as early as this summer. The modeling results are captured in a series of dramatic animations produced by the National Center for Atmospheric Research (NCAR) and collaborators.
My question for you is, what are your concerns about this oil spill?
For me…it's the wildlife, the environment ant the possibility of higher prices at the pump from either a tax to pay for the clean-up or from the lack of supply.
…………
The Dating Profiles Meme: Time is on My Side
1. "Time" is a very important factor to me.
Buy a clock….
2. I am very close with my family and certain friends. So hopefully everybody can get along. If not, pretend you do.
That's life.
3. I apologize ahead of time if it's blunt but i'm tired of the games.
Games?
4. I'll never settle and I'll always be honest and upfront. Sometimes that's a good thing and sometimes that's a bad thing.
Sometimes, I just don't give a doodoo Scarlett.
5. I believe the energy you give, is the energy you will receive.
As in 5 Hour Energy?
6. I have a large family….15 children in my family, so I have 43 nieces and nephews of which I will boast that I am a godparent to 8 of them!
Most litters are like that.
7. I am always willing to step outside of my box to continue learning and exploring, and, so, I hope you would be willing to do that as well!
Me too.
8. You Say Tomato, I say Tomatoe. Who Cares?
Tomato Farmers
9. On a typical day I work long hours, walk my dog then enjoy grilling out in my backyard with a glass of wine.
Well…good for you
10. I definitely believe in love at first sight! Although I think it's rare, I know it's possible. I fully expect it to happen soon.
Keep looking sonny…
…………….
…………………….
Welcome to Friday-Follow
This week's sponsor is Fibers.
One lucky F-F Participant will win a $25 voucher for anything on Fiber's site.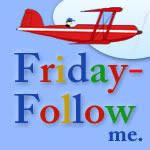 Welcome to the 2nd Friday Follow hosted by our awesome hostesses, Stephanie at Babes Rockin Mami, Michelle at Mommy Loves Stilettos, and Laura at Vodka Logic! Thank you ladies for being willing to host! I approached them first before we announced the website.
We invite you to join us every Friday to get more blog followers and to find many interesting blogs that you like. This is all about sharing and having fun.
We expect you to be on your honor and to have fun. These are only guidelines to make it more enjoyable for you. Here's how YOU can join the Friday Follow celebration:
Link up your blog name and URL using the McLinky below. Only need to add on one blog to be seen on all the blog hops.
Grab the Friday Follow button on the right side and include on your Friday Follow blog post with the linky information which you can find at the bottom of the post.
Follow Friday-Follow.com so you can see the current things going on. If you haven't check out the website yet, please do so. If you have problems with the coding for the button, it's a great place to get it.
Follow the Friday Follow hostesses listed in the first 3 slots. (One of the benefits of being a host/hostess).
Follow as many other blogs on the linky as you'd like.
Take a moment to comment on the blogs telling them you're from Friday Follow.
As always, we are trying to improve the Friday Follow so here are a couple of rules to make the experience even better for you:
Only one link per blog. We do have a giveaway tab that you can include your giveaways on.
Please try to keep your post current so that people can see your showcased work.
Follow someone back if they follow you – this is common courtesy.
No xxrated blogs.
No spammers.
Please leave your url so that others can easily follow you back. Someone requested me add this.
This list is new each week. The links do not carry over. Please link up each week for new participants to find your blogs. The list is only open to add your blog links on Fridays. It will be visible all week to visit the blogs listed.
Congratulations to our first Three Friday Follow Winners!!!
Pull up your potty seat, this could take a while
Each week we will randomly draw from three (3) blogs from the links for the next week's Friday Follow, and each blog chosen will be placed in the highly coveted number #7, #8, and #9 position on the blog hop. The first blog chosen will also be given the option of doing an interview which will post on Friday-Follow.com on Thursday the next week. We love your participation and want to give back to you! You could be next!
If you are interested in being a host or sponsoring a blog hop for Friday Follow, feel free to click here  to fill out the form to request to be a host/hostess.
Sponsors are always wanted- click here
Thank you for joining us. Have fun!
This week's sponsor is Fibers.
One lucky F-F Participant will win a $25 voucher for anything on Fiber's site.
Also. in addition, you can win an iPad. How?
Check these out to find out!
(Here is how you enter the giveaway to prizes:
You must go enter their Father's Day Contest.
You must come back here after visiting Dad T-Shirts & Custom T-Shirts to leave a comment with the link to the design that you like.
You need to be a Google Friend to Friday-Follow
You need to follow us on Twitter
You need to subscribe to our RSS feed)
Congratulations to Last week's winner Ciera who won a T-shirt from Sponsor Cafe Press!
Happy Jumping!!
Google+ Comments