Seriously..

.Universal Orlando.

..do we really need a Harry Potter theme park?

The Wizarding World of Harry Potter is a mini-park inside Universal's Islands of Adventure theme park. It opens for general admission June 18th
It's time to move on…
Good News…
An 11 year old girl in New York has raised close to $80,000 by sending her sketches and paintings of birds to people who donate to organizations helping with relief efforts in the Gulf of Mexico spill disaster.
Girl draws for oil leak donations-see more of the New York fifth-grader is creating drawings of birds in order to raise money to protect wildlife from the effects of the Gulf spill.
Be honest….do you care about the World Cup?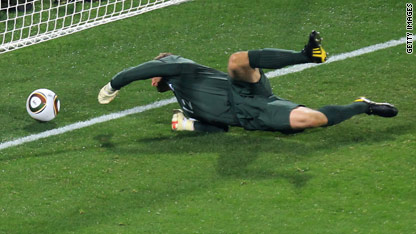 If I can be so bold to speak for the other American's out there, certainly not 100% of all American's, we view football as a sport played in the fall with an oval ball. Okay..maybe I'm being a bit harsh…let's just leave it at I wish there had been more attention given to the Stanley Cup champs last week. Just sayin'
Sunday Stealing: The Dark Side Meme
1. You're building your dream house. What's the one thing that this house absolutely, positively MUST HAVE? (other than the obvious basics of course)
My own bedroom with my own bathroom. AMEN.
2. What is your dream car?
One driven for me.
3. What is your favorite website that isn't a blog?
There are websites that are not blogs?
4. iPhone 4 or Droid, which do you want?
I have what I want- iPhone
5. When you're feeling down or lonely or just generally out of sorts, what do you do to cheer yourself up?
Gee Wiz Wally….I just don't know.
6. Tell me about something or someone that you love that most people seem to hate.
I don't want to hurt anyone's feelings…..
7. What do you want to be when you grow up?
Grown up.
8. Would you go on a reality show if given the chance?
No.
9. Who was your favorite teacher when you were growing up. (Grade school, Middle School, Jr. High or High School only.)
Albert Einstein.
10. You get one pass to do something illegal or immoral. What are you gonna do?
Prosecute bad meme writers.
11. What were you doing 10 years ago?
Who cares? Waking up, breathing, using the potty…
12. By this time next year, I …
hope to have broken this meme addiction. There are some questions I never want to see again.
13. Do you think the United States will elect a female President in your lifetime? Do you think this would be a good thing?
Sarah Palin. …. …. …
It'll be a really good thing for TV.
14. Which fictional, TV show character you would shag anytime?
Shag?
15. What is your greatest pet peeve?
Dumb questions
16. Tell me about your most recent trip of more than 100 miles?
To SIL's wedding
17. Which do you use more often, the dictionary or the thesaurus?
GOOGLE! Same answer as last week!
18. Do you have a nickname? What is it?
Mom
19. What are you dreading at the moment?
Question 20
20. Do you worry that others will judge you from reading some of your answers?
Am I still answering them?
21. In two words, explain what ended your last relationship.
My dog died. So I got a new one.
22. What were you doing this morning at 8am?
Dealing with a client issue(s)
23. Do you have any famous relatives?
Napoleon Dynamite
24. How many different beverages have you drank today?
It's not what I've 'drank' but when I'm being driven to drink…
25. What is something you are excited about?
Ending this so I can drink.
26. When was the last time you spoke in front of a large group?
I spoke at the Presidential Inauguration last year. Did you see me? I had on the yellow dress.
27. When you looked at yourself in the mirror today, what was the first thing you thought?
Please give me the strength to not kill any meme writers today.
28. What were you doing at midnight last night?
Hitchhiking to Alaska to Moose hunt with Sarah
29. What's a word that you say a lot?
Stupid. Know why?
30. Who is your worst enemy?
Right now? The number 30.
Who said Thom could take time off?
Okay, so it's gonna be just us this week ….
Google+ Comments