What are you watching???
According to TV by the numbers… Judge Judy beat out  Oprah  for the ninth time in eleven weeks.
Judge Judy also swept by usual leader Oprah for the daytime crown in first run during the May "sweeps" period. Judy averaged 6,422,000 viewers in the sweeps ratings period, compared to 6,229,000 for Oprah. That represents an average gain of 637,000 viewers over last May for Judy and a net loss of 602,000 for Oprah. In terms of ratings, Judy grew 10% from last May to a 4.5 sweep average, which was more than double that of any other court show. Oprah declined 10% to a 4.7 average.
My question for you is- What is your television vice?
ME…Housewives…
………….
The Dating Profiles Meme: Not Getting Physical
1. My most relevant life goals are spiritual and emotional – not physical or financial.
So, you're broke? Bye bye..
2. I love learning new things & am an adventurous person.
New things as in new food or new things as in a new way to beg for money?
3. My children are grown and I have no responsibilities, other than my work I suppose.
My dogs are pretty big too…
4. Do I need to send smoke signals?
You have enough signals emanating from your body as is
5. I have 3 grown children & 1 dog, so I'm Italian/French.
WOW! 
6. I appreciate if your opening shot/photo is your most current.
How's this
7. Tell me a joke, I love to laugh, it is the best medicine.
I'm not in the mood to tell knock knock jokes.
8. I'd love to get back into real estate someday, maybe own and run a motel or bed and breakfast.
You should go to Vegas and open a brothel
9. Hello, I am so not good at this.
No kidding….
Are you an Illinois Blogger?

Meet up with other Illinois Bloggers and promote your site for free!
…………………….
……………….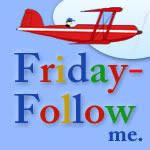 Welcome to the 2nd Friday Follow hosted by our awesome hostesses, Heather at Two Little Monkeys Plus Hubby Make One Happy Mommy, Evonne at All You Need Is Love, and Steph at A Grande Life. Thank you ladies for being willing to host! I approached them first before we announced the website.
We invite you to join us every Friday to get more blog followers and to find many interesting blogs that you like. This is all about sharing and having fun.
We expect you to be on your honor and to have fun. These are only guidelines to make it more enjoyable for you. Here's how YOU can join the Friday Follow celebration:
Link up your blog below.. One Link per blog
Grab our Friday Follow button include on your side bar, or post.. grab the linky information if you want it
Follow the Friday-Follow blog and the hostesses in slots 1, 2 & 3 that have volunteered today to host
Follow the blogs you want, leave comment saying you are from Friday Follow – use common courtesy
No spammers, or xxrated blogs – family friendly
If you need more guidelines about following see Friday-Follow.com
This list is new each week and closes on Saturday at 11:59pm EST. The links do not carry over. Please link up each week for new participants to find your blogs. It will be visible all week to visit the blogs listed.
Congratulations to our first Three Friday Follow Winners!!!
Each week we will randomly draw from three (3) blogs from the links for the next week's Friday Follow, and each blog chosen will be placed in the highly coveted number #7, #8, and #9 position on the blog hop. The first blog chosen will also be given the option of doing an interview which will post on Friday-Follow.com on Thursday the next week. We love your participation and want to give back to you! You could be next!
Spread the word about Friday Follow by grabbing our button for your blog and come celebrate again every Friday. Feel free to also send out a tweet, blog, stumble or share the news in your own special way!
Sponsor this week is Friday-Follow.com
Would you like to have your blog advertised on Friday-Follow.com for a week?
This week we are offering up to one ad spots for your blog to get more attention to one lucky flyer. All you have to do to be entered is join the hop.
If you are interested in being a hosting for Friday Follow, feel free to click on the link on the right side to fill out the form to request to be a host/hostess.
If you are interested in being a sponsor for Friday-Follow, please fill out the sponsorship form here.
Thank you for joining us. Have fun!
Happy Jumping!!
Google+ Comments