Hey- how's your weather?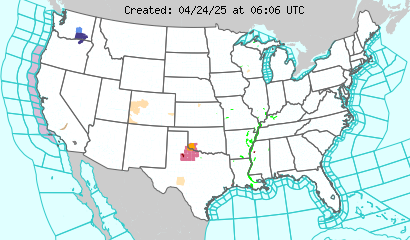 It's been really hot here- 90's with humidity. We've had some flooding rains pass through the state as well. The extended calls for more heat and humidity.
In good news from NOAA, NOAA has opened more than 8,000 square miles of previously closed fishing area in the Gulf of Mexico, because the agency has not observed oil in the area.
Thursday 13
ZEN TEACHINGS
got this in an email- thought it was cute…
1. Do not walk behind me, for I may not lead. Do not walk ahead of me, for I may not follow.. Do not walk beside me for the path is narrow. In fact, just piss off and leave me alone.
2. Sex is like air. It's not that important unless you aren't getting any.
3. No one is listening until you fart.
4. Always remember you're unique. Just like everyone else.
5. Never test the depth of the water with both feet.
6. If you think nobody cares whether you're alive or dead, try missing a couple of mortgage payments.
7. Before you criticize someone, you should walk a mile in their shoes. That way, when you criticize them, you're a mile away and you have their shoes.
8. If at first you don't succeed, skydiving is not for you.
9. Give a man a fish and he will eat for a day. Teach him how to fish, and he will sit in a boat and drink beer all day.
10. If you lend someone $20 and never see that person again, it was probably well worth it.
11. If you tell the truth, you don't have to remember anything.
12. Some days you are the bug; some days you are the windshield.
13. Don't worry; it only seems kinky the first time.
and bonus teachings because TT people are so cool!
14. Good judgment comes from bad experience … And most of that comes from bad judgment.
15. A closed mouth gathers no foot.
16. There are two excellent theories for arguing with women.
Neither one works.
17. Generally speaking, you aren't learning much when your lips are moving.
18. Experience is something you don't get until just after you need it.
19. We are born naked, wet and hungry, and get slapped on our ass …
Then things just keep getting worse.
20. Never, under any circumstances, take a sleeping pill and a laxative on the same night
…………
Thursday Thunks: Welcome to Summertime 2010!
The TT questions are brought to you by Bud, the color of Atlantic Ocean and the number 3.

1. It became officially summer on Monday. What's your favorite part of winter?
Slipping on the ice….I just love falling on my behind in a parking lot…..
As much as I like the seasons, I don't want to think about the other one at this time.
2. What was your worst summer vacation ever?

I haven't had one in years!
We vacation in the off season due to hubby's job.
3. Kimber's husband just got the dream job that he's hoped for. So a big shout out to her and Anthony! Tell us about the best job that you ever had.
Bud, I told you this last weekend:
31. What was your favorite job?

Getting paid to do Sunday Stealing.
Thanks Bud.
4. Who is probably talking a load of crap about you right now?
Bud.
5. An alien appears and offers you the opportunity to repeat one year of your life. You will still know everything that you know now. He explains that no matter what you do differently, when you are returned to the present nothing will have changed. What year would you pick and why?
Ya know…I'm not sure I wanna repeat a lot of stuff. I'll take a pass.
6. Name three things you have on you at all times. Explain why.
Glasses so I can see, undergarments (use your imagination) and probably a hair clip.
7. When was the last time you wrote a letter to someone on paper and mailed it?

I politely terminated a client who was FOS and not worth the $$ to deal with. I also blocked him on FB (stalker) and did a few other things….
FYI- he didn't take the break-up too well.
8. If you could have everyone in the blogosphere read just one of your posts, which post would you pick and why?
Um…I'm giving away $60 to CSN. I had never heard of this online store before I was approached to do this. Apparently, it's a popular thing…
9. I recently read that the music industry continues to decline at an alarming rate. In the last year it said the sales of Michael Jackson's and The Beatles' music are the only artists who sales continue to climb. The article stated that the two are holding up the industry. Have you bought a CD or mp3 of either artist recently?
I download. Plus, they're not making a whole lot of classic rock these days and I'm not compromising.
10. What radio ad right now do you find so annoying that you'd rather have a tooth drilled than hear it again?
Anything Bob and Tom. Sorry boys, I know you'll are fans.
11. Berleen walks into a bar on a hot Minnesota day. At the bar sits a priest, a rabbi and a minister. A ten foot duck walks into the bar right after Berleen. What drink do you think Berleen orders?
It's not so much the drink Berleen orders as it is the drinks Bud drank before he came up with the question…
12. There is a knock on your door. It can be anyone in the world. Who would you want it to be?
That dude who just ran passed my window.
JK.
Sarah Palin looking for career advice.
13. What would be the worst entertainment or sporting that you could be forced to watch?

AHEM…GOLF.
I happened to have married and influential individual in the business…go figure.
Your blog can get listed for free and it's a great way to meet up with other Illinois Bloggers!
Google+ Comments