Wonderwoman got a makeover….and some "plastic surgery" too….
Stop the Presses!!!!!
Lindsey Lohan says…um tweets…she was punched in the face.
Apparently not hard enough if she was able to tweet it.
Lohan tweeted this "A waitress just hit me – punched me for no reason."
US Weekly says that the 'actress' was hanging at a nightclub in Los Angeles when a waitress allegedly punched her. The magazine quotes a source as claiming the waitress had "a history" with former Paris Hilton beau Doug Reinhardt who Lohan has been spotted with around town.         No word yet on what Linsdey was drinking at the time. Is there?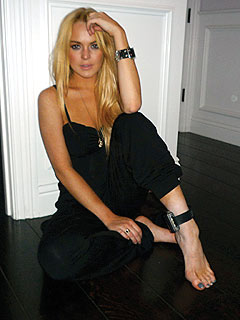 This is serious stuff here
Here is the scoop…. a group of German researchers say the 19-year-old pharaoh suffered from sickle-cell anemia.    A letter published in the Journal of the American Medical Association suggests that Tut could also have suffered from Antley-Bixler syndrome, a genetic mutation that yields strange physical effects, such as elongated skulls and even under-developed genitalia.
Ya know… maybe Tut was a she? Anyway…if you find his dinky….let somebody know because it could solve all of the world's problems including the 76 day old oil spill in the gulf.
And…obviously still campaigning for "Father of the Year"
Guess who this is….
Yep..Jon minus eight and Kate…
Saturday 9: Make Me Say It Again, Girl
1. Do you feel that you need to keep repeating yourself when talking to a particular person? What? Can you say that again (wonder how many others will answer the same)
2. It's July. Do you have anything special planned?
Swimming in my pool. Drinking margaritas again.
3. Who is your big celebrity crush?
Bud.
4. Tell us about a local restaurant you are sure we'd love.
Well…it has Golden Arches and all you can drink Diet Coke.
5. Tell us about the shyest person that you deal with regularly.
You Sam.
6. What is your vision of heaven and hell?
Do you know the difference?

7. What is your neighborhood like?
Well.. there are houses and cars and dogs and we are pretty much surrounded by corn fields. Jealous?
8. What's your favorite cook-out food?
Seriously…if I read one more 4th of July question today I'm gonna kill the Twins.
OMG…there must have been like a million of them. I've been to over 300 blogs thanks to Friday-Follow.
9. When was the last time that you saw fireworks?
I'm not a gun advocate, but…..

Google+ Comments