See this? Who is that?
My goodness…isn't that Jersey Shore star from New York, orange oompa loompa Snookie?? So what did she do to lose her shoes and get escorted by hot guys in uniform? People says this: "The petite reality star, 22, of Jersey Shore was being booked by the Seaside Heights, N.J., police department Friday after she was seen intoxicated in public, a police source confirms"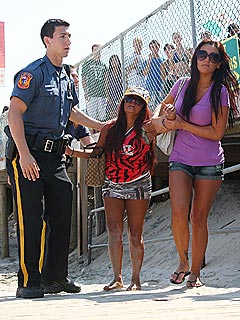 Splash News Online
That's Nicole "Snooki" Polizzi and Jenny "JWOWW" Farley (I have really no clue but, I wanted to show the obvious disparity here. See it?)
……
You gotta respect Ellen.
She really wanted to do the Idol thing but, soon realized it was against her better judgement.
"A couple months ago, I let FOX and the American Idol producers know that this didn't feel like the right fit for me," she says in a statement. "I told them I wouldn't leave them in a bind and that I would hold off on doing anything until they were able to figure out where they wanted to take the panel next. It was a difficult decision to make, but my work schedule became more than I bargained for."
"I also realized this season that while I love discovering, supporting and nurturing young talent, it was hard for me to judge people and sometimes hurt their feelings. I loved the experience working on Idol and I am very grateful for the year I had, I am a huge fan of the show and will continue to be."
Go Chelsea!
No matter who you are, you gotta be happy for Chelsea Clinton getting married this weekend. Rumor has it that the wedding is in the millions and that celeb guests have been asked to ditch their cellphones, camera's etc.

Aisledash.com has the scoop.
……….

Saturday 9: Bad Day
1. Is there anything that you tend to do to cheer up when you are having a bad day?
Margaritas?
2.What's the last card game you played, and with whom did you play?

Ummm…can't remember. Guess I'm too addicted to the internet or something. At least it wasn't Old Maid.
3.What's the last board game you played, and with whom did you play?

Do people still play those things?
Maybe it was Monopoly like a million years ago.
4.What's the last computer game you played, and with whom did you play? Had a Farmville/Fishville/Mafia War thing going for about a month last winter.
5.Is there somewhere you'd like to visit but have not, and where is it?

Maybe the Grand Canyon.
6.Think of your favorite movie (or a movie you really like, if you can't think of a favorite). Some people say that the reasons you love your favorite movie are related to what you value in romantic relationships. How is this true or untrue in your case?
Um…I love Napoleon Dynamite- is that romantic? Does anyone think this question was kinda lame?
7.What physical attributes do you find the most attractive?

A full bank account.
8.How many people live in your house? Tell us about them.

Who cares?
Right now…freeloading son. He's asleep. We came in late from the red eye last night and he had to get to work this morning.
9. Ever punch someone in the face?
I'm a bit vertically challenged to do that plus, I'd rather not get sued because I was stupid enough to not walk away from an idiot.
Google+ Comments