he How to Manual That You Can Edit
Hot dogs are as beloved to Americans as apple pie. So are the competitive eating contests that go along with them. The winner, however, can come from anywhere in the world. There are people who win eating contests consistently, and it's never about their size; it's about their technique. Here's how you can become a hot dog eating champion in your neck of the woods.

Steps
Stretch out your stomach. Hot dog eating legend Takeru Kobayashi begins a unique training regimen 2 months before an event.[1] Be sure that you are training and competing safely to avoid dangers such as acid reflux, choking, stomach rupture, and inflammation or even tearing of the esophagus;[2] see Warnings below.

Make room by stretching your stomach. Gradually eat more and more every day, eating bulky, fibrous foods like watermelon or cabbage and drinking plenty of water.[3] The human stomach has the capacity of about 1 liter (a little more than 1 quart) but can be distended up to four times that capacity (more than a gallon).[4] Write down your goals for consumption and run them by your doctor or dietitian before you start–a hot dog eating trophy is not worth a trip to the hospital or a permanent medical condition.
Exercise to avoid gaining weight. Most eating champions are lean, and many contend that having fat on your stomach actually impedes its ability to expand, referring to it as the "band of fat theory".[5] Also, exercising will keep your eating regimen from jeopardizing your health. Kobayashi weight trains in order to build muscle and increase metabolism.[6]

Develop techniques of eating them that will work for you. Find one that puts that hot dog down fast and smooth. The intuitive approach is to eat the hot dog all at once. Alternatively, you can eat the frankfurters and the buns separately. You can also dip the bun into water before eating it.

Kobayashi uses what he calls the "Solomon method" in which he separates the frankfurter from the buns, breaks the frankfurter in half, puts the two pieces in his mouth simultaneously, dips the buns in water, 7Up or Sprite and eats them next.[7] This is done to cut down on chewing time.[8]
Sonya "The Black Widow" Thomas, who holds over 20 world records for speed-eating, stresses the importance of coordination. Use your hands to eat and drink as quickly as possible, and watch videos of hot dog eating champions to see how they coordinate their movements to speed up the process.[9]
Pack it down. Wiggle your body as you're eating to help the food down and encourage it to settle more compactly in the stomach. Some people refer to this as the "Kobayashi wiggle".[10]

Suppress the "gag" reflex. Vomiting during the competition will guarantee a loss. Just like the sword swallower, train your mind to ignore the urge to upchuck. Hot dog eating contests are not about taste or appetite. They're about control. Remember, however, that gagging is your body's defense against choking, so do not take steps to overcome it unless you're striving to become a competitive speed eater and you never eat without someone else present to help if you choke.
Time yourself. Find out how much time the contest will give you. For example, Nathan's Famous Hot Dog Eating Contest lasts 12 minutes. Clock yourself as you practice eating as many hot dogs as you can within that time frame. Track your progress and try to break your previous record.
Tips
Find out which brand of hot dog you'll be eating at the contest and practice with that. Texture, ingredients and size vary. You don't want to master the Ball Park hot dog if you're up against the foot long.
Warnings
The International Federation of Competitive Eating (IFOCE) recommends training only in a controlled environment with appropriate rules and with an emergency medical technician present. It discourages anyone from training at home and anyone under 18 years old from speed-eating at all.[11]
Related wikiHows
Sources and Citations
VideoJug.com – Video of hot dog eating contest. Original source of page. Shared with permission.
Article provided by wikiHow, a wiki how-to manual. Please edit this article and find author credits at the original wikiHow article on How to Win a Hot Dog Eating Contest. All content on wikiHow can be shared under a Creative Commons license.
..
So, I know you're dying to find out…
who won the Nathan's Hot Dog eating contest that I blogged about yesterday.

Reining champ Joey Chestnut held on to his title devoured 54 hot dogs in 10 minutes. This is his fourth win in a row.
..
Welcome to Monday Mayhem
It's time for the Red, White and Blue meme.
For each word below, write a sentence using the word and the color red, white and/or blue.
Have fun!
1. Man.
This white man is now red. Ouch!
2. Woman.
What is with this woman in red, white and blue?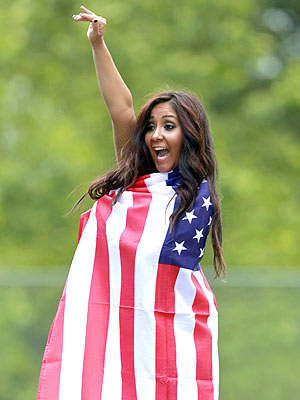 3. Car.
Check out the smart car in red and blue
4. Underwear.
The Red, white and blue "Aerosmith" underwear is for sale.
5. Socks.
You too can be patriotic in red, white and blue socks.
6. Pizza.
I've seen a white pizza but, not a blue pizza.
7. Stupid.
Is this red,white and blue meme stupid?
8. Smart.
What, you think this red,white and blue meme is smart? thanks!
9. Sexy.
At Victoria's Secret, red can be sexy
10. Strong.
Twizzler's can be strong I hear.
11. Twins.
Imagine if this said Minnesota Twins on it.
12. Bus.
Like this blue bus?
13. Harriet.
Harriet has blue eyes.
14. Monday.
Sure hope we have a blue sky on Monday.
15. Seriously.
This red, white and blue meme is seriously over. thank goodness…..

Thanks for playing!

Google+ Comments