Guess who has been replaced.
Yep..good old Jon. Well, for one episode of Kate plus 8.
And yes, that is my fav. Sarah Palin.
I can't even tell you how many people contacted me with links etc to this one.
The scoop is that Kate, her 8 kids, and Sarah Palin are planning to meet in Alaska for a camping trip that will be aired on TLC's "Kate Plus 8" show next season.
InTouch says
Sarah's father, a retired science teacher, and brother, a third-grade educator, will conduct a hands-on natural history lesson for 9-year-old twins Mady and Cara, and 6-year-old sextuplets Aaden, Joel, Collin, Leah, Hannah and Alexis. A mother of a big family herself, former vice presidential candidate Sarah is thrilled about the upcoming visit. "She's excited because it will be fun and educational for the children. Sarah will even teach Kate how to avoid bears!" the insider adds.
As for father of the year, E News Now says he's keeping busy getting fit. Jon's got a brand new girlfriend, a 23-year-old .
With my luck, when Kate and Sarah plus 8 airs, there will something good at the same time on C-Span.
…..
This will be the last Monday Mayhem for a while…
It's not that I don't enjoy MM. Monday's are generally slow all over the internet so I'm not that concerned about the patronage.I have really had fun with this meme and with the people who have joined me in it.
Welcome to Monday Mayhem.

Today's meme is The Top Ten Repeated Meme Questions.
You know, the questions that we see always popping up in memes all over the place.

This is your chance to have fun answering them. Choose a cartoon character, celebrity or someone in the news to answer them as. For example, if you are a fan of Homer Simpson, answer the questions as if you are really Homer.
Thanks to our weekend memes, and others, for providing us with the wonderful question. Have fun.
Who are you answering these as?
Haven't visited with this guy in a while
1. If you were on a deserted island, what three things would you want to have with you?
Lindsey Lohan, a Spiderman comic book, and a package of rub on tattoos.
2. What is your favorite song?


3. Do you have any tattoos? If so, tell us about them.
Dude- I've got a tattoo for every one of my girlfriends.
Did you see this?
Radaronline had the scoop.
"I have planned this tattoo for years now," Jon told RadarOnline.com in an exclusive interview. "I wanted something that resembled a rebirth or a change in me." I picked a Korean dragon because it's a symbol of rebirth and the circle of life."The dragon is all encompassing. It has all parts of the zodiac," Jon tells RadarOnline.com. I showed my eight children the tattoo, and "they love it and think it's cool!' .
4. When was the last time you cried?
When Haley and Kate both made fun of my manhood in the press.
5. When was the last time you laughed?
When Kate got bonked from Dancing.
6. what is your dream job?
To have my own TV show on TLC where all I do is nothing more than live my life. Then I can sit on an ugly couch and talk about it. I'll make tons of money.
7. Are you sarcastic?
No. I'm really a turd.
8. What was the last big ticket item that you purchased?
Either the tattoo art work on my body or that nice car which I had for a month.
9. What's your favorite movie?
The Sound of Music.
10. Use six words to describe yourself.
Great Father, Husband, Boyfriend, and Stud.
Thanks for playing! Have a great week!
Leave a Comment
………..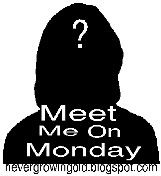 1. What one food could you eat every single day? Peanuts. It's crazy!
2. Do you wear glasses or contacts? Glasses. Did the contact thing years ago.
3. What kind of cell phone do you have? iPhone of course.
4. What did you have for dinner last night? Salad and watermelon. I had a big burger for lunch.
5. What is your favorite candy? Slimfast peanut butter crunch bars. 
Google+ Comments