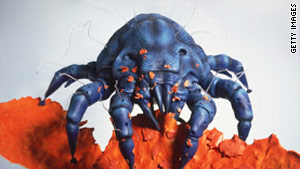 No seriously.
I just read this article about bed bugs.
In a report from the National Pest Management Association says that Bedbug calls have gone up by 81 percent since 2000. The study says that 67 percent of surveyed pest management companies have treated bedbug infestations in hotels or motels.
The enemy is about a quarter-inch long and eat at night, said Howard Russell, entomologist with diagnostic services at Michigan State University. Impressively, while humans can live only a matter of weeks without food, bedbugs can live up to one year without eating — and their meals consist of blood. How do you know if you have been under a bed bug attack? They leave behind itchy bite marks.
………..
Do help children transition from summer to school. According to Marcy Willard of the Child Family and School Psychology program at the University of Denver: "Parents can help their children be ready for school by attending back-to-school night and/or taking your child on a tour of the school and the classroom he'll be attending. These activities go a long way to reduce anxiety in kids on the first day of school."
Do introduce yourself to the teacher. "The most important thing you can do in school is stay engaged in your child's education," says National PTA president Charles J. "Chuck" Saylors. "When you build partnerships with teachers, administrators and other parents, your child reaps the benefits, from improved grades to stronger self-esteem."
Other Reads…
How to get out the door faster
38 easy ways you can get involved in the classroom as well
Guidelines for the parent-teacher relationship
New ideas for brown-bag lunches
Making a Smooth Move to Middle School
6 people to know at your child's school besides the teacher
Be sure to join the August Comment Challenge!
I challenge you to leave 1000 comments during the month of August! You can sign up on my sticky post.
…………..



………………

Google+ Comments