Yep- A judge revoked Lindsay Lohan's probation and she's been ordered to appear in court Friday.
It was just a few days ago that she tweeted that she failed a recent drug test and that she was "prepared to appear before judge Fox next week as a result."
Lohan tweeted that she was "doing what I must do to prevent any mishaps in the future."
Coincidentally, all of this happened when former party pal Paris Hilton went before a judge and admitted to being the owner of the Cocaine and that she lied to the cops on the night of her arrest.
The judge also ordered Hilton to complete an intensive substance abuse program and have to pay a $2,000 fine and complete 200 hours of community service. Do you have any idea what $2000 means to Paris Hilton?
No. 1 Labrador Retriever
No. 2 German Shepherd
No. 3 Yorkshire Terrier
No. 4 Golden Retriever
No. 5 Beagle
No. 6 Boxer
No. 7 Bulldog
No. 8 Dachshund
No. 9 Poodle
No. 10 Shih Tzu
My mutt is a #1 and a #6. Who knows what else…
Yep- She's Back- the most feared personal trainer in America…
Season 10 of NBC's popular series "The Biggest Loser" kicks off on Tuesday, September 21st (8-10 p.m. ET) with a new theme of "paying it forward" and 21 contestant hopefuls vying for a spot at the ranch to get healthy and change their lives forever.
I have to admit, I'm not a huge fan of Alison Sweeney- I liked Caroline Rhea a lot. And I think the commercials (during the show itself and between segments) are a bit misguided and annoying at times. What I do like is that this is a show about real people- relatable people- who share issues that many of us have. It's a very motivations show to many people on many levels.
Some people have mentioned that the show takes advantage of over-weight people. That's their opinion. However, they signed up for it and there is a long list of others who would jump on the chance.
The new season players include Burgandy (Eagle Mountain, Utah), a military wife, foster parent and mother of five; Aaron (Kent, Ohio), the son of an alcoholic who hopes to be a better role model to his own son; and Montina (Houston, Texas), a background vocalist for Beyonce who wants to look as good as she sounds. Viewers will also meet Tina (Boring, Oregon), a 58-year-old retired homemaker who was a swimsuit model in her younger years; and Adam (Santa Ana, California), who hopes to lose weight and honor his mother, who died at age 51 from heart failure brought on by complications from diabetes and obesity.

Other new contestants include Sophia (Germantown, Maryland), a high school counselor who lost her brother last year in a tragic car accident; Patrick (Vicksburg, Mississippi), a former college football player who continued to consume large quantities of food long after an injury forced him to stop playing; Ada (San Francisco, California), who longs to "finally be happy" after a difficult childhood with unsupportive parents; and Brendan (Boston, Massachusetts), a special education teacher who wants to practice what he preaches to his students about the importance of exercise and a healthy diet.
Comment
…………..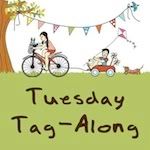 ………….. Follow me back Tuesday
Google+ Comments