What ever happened to….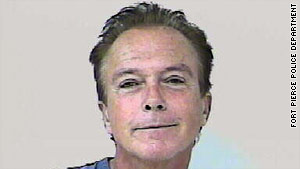 David Cassidy?
Ahhh….the face of Keith Partridge once covered the walls of my bedroom, thanks to Tiger Beat mag.
Welp, now David Cassidy faces a drunken driving charge after a Florida Highway Patrol officer stopped him on a Fort Pierce, Florida. David Cassidy is freaking 60! He registered at .14 on an alcohol breath test.
The Frisky Says :Top 10 most inappropriate places to flirt
(Seriously, do you really need to read this list?)
1. A hospital waiting room
2. The gym
3. A funeral
4. A job interview
5. In the underwear section of a department store
6. In line for the bathroom
7. Your therapy appointment
8. A parent-teacher conference
9. On a date with someone else
10. At work
Sunday Stealing: The 14 Question Meme
1. What do you consider your hometown to be?
What I often call "The Old Country"
2. What's the hardest part of your average day?
When Firefox screws up like it did while I was working, thank you very much
3. The easiest? Why?
5:00. Need I say more.
I'll be right back.
4. What beverage do you reach for to quench your thirst?
Great timing…
5. What is one not-so-secret goal you have for your life? I'll let you keep your secret ones to yourself.
To get 200 people to play Monday Mayhem, which by the way, posts on Sunday.
6. What physical pain do you fear most? For example, I'm trying to decide how bad my jaw pain needs to get before I risk a potential needle from my dentist. So, for me, throbbing is preferable to jabbing.
I've been through childbirth…what's left?
7. Where do you find solace?
Memes
8. What makes you the saddest when you read/see the news? People like Charlie Sheen who have everything in the world, mess up, and keep getting second chances. Then there are people who don't even et a chance. WTH. Oh, and people who abuse animals.
9. What do you eat for a favorite snack?
Depends on many factors- right ladies?
10. What movie could you/would you watch more than two or three times and still enjoy just as much as the first time?
The one on right now as a mater of fact- Napoleon Dynamite.
11. What boy/girl first made you cry?
Some clown I'm sure
12. What brand of coffee/tea do you drink most often?
Neither.
13. Dig in the dirt with or without garden gloves?
Depends where the dogs have been.
14. James Taylor or Carly Simon?
Wasn't their break-up like 40 years ago?
Google+ Comments