Today's Daily Cute is the Harp Seal which you can adopt from the National Wildlife Federation .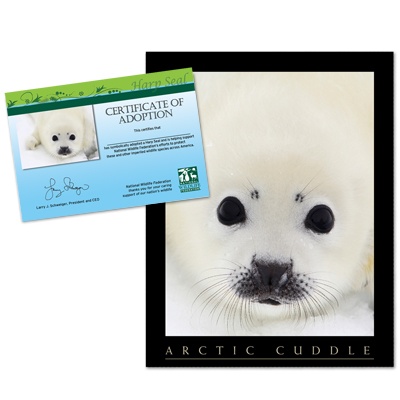 According to Wikepedia, this is a species of earless seal native to the northernmost Atlantic Ocean and adjacent parts of the Arctic Ocean. I  Its scientific name, Pagophilus groenlandicus, means "ice-lover from Greenland", and its synonym, Phoca groenlandica means "Greenland seal". Visit Wikepedia to read about how this animal is hunted commercially.
FYI: With a symbolic $20 adoption you will receive: •A Certificate of Adoption •An 11" x 14" full-color poster Your adoption is symbolic and your donation will be used where it is needed most to help protect America's imperiled wildlife.

Sunday Stealing: The Dwight Twilley Meme
Cheers to all of us thieves!
1. The latest book or movie that made you cry?
Napoleon Dynamite. Mostly, because it is my standard wisecrack answer and I cannot think of anything else.
2. The fictional character most like you?
Me. Trust me on this one.
3. The greatest album, ever?
DUH! The White Album.
Dude..really…..
4. Star Trek or Star Wars? Why?
Neither- I'm Star'd out.
5. Your ideal brain food?
M & M's. Duh.
6. Everyone is proud of a certain accomplishment, which one for you??
Raising freeloaders….
7. You want to be remembered for …?
Raising Freeloaders.
8. Let's talk about recording artists. Who do you find the most inspirational?
Since most of them seem to have lifestyles quite unlike mine, this would be a hard call.
Lennon.
9. The creative masterpiece you wish bore your signature?
The White Album
10. Your hidden talents . . .?
Meme answers. Duh
11. The best piece of advice you actually followed?
Bring an extra poop bag with you.
12. The best thing you ever bought, stole, or borrowed?
Baja Bob's
13. What is the most comfortable clothes that you wear?
Leggings, a sweatshirt stolen from Freeloader #1 and a pair of Uggs…
14. Your dinner guest at the Ritz would be?
Fred Astaire (once again…Duh!)
15. Time travel: where, when and why?
Huh? No habla.
16. Stress management: hit man, spa vacation or Prozac?
Jose and Bob.
17. Essential to life: coffee, vodka, cigarettes, chocolate, or . . .?
#1 Air. Then there is Coke Zero, chocolate, Jose, Baja Bob, dogs, indoor plumbing and a few other things.
18. Environment of choice: city or country, and where on the map?
Somewhere where there are only 1 or 2 snow falls a year where the people are not gross & the air is clean, no offense Fla/Cal/ St. Louis/Indiana…
19. What do you want to say to the leader of your country?
Quit smoking.
20. Last but certainly not least, what are you working on, now?
Monday Mayhem!!!!! and Jose/Bob of course.
Google+ Comments