Dove Hair Care #BrushwithGreatness Twitter Party Hosted byFirstClassFashionista.com– this Sunday 12/19!!!
@mrslillianpucci, @Dove and @Rocket_XL invite you to a Twitter Party to learn how Dove Hair Care takes care of damage so women can keep doing their favorite things, from styling, bleaching, straightening, driving with the convertible top down, or wearing a ponytail.
Dove Hair Care and award-winning actress and singer Idina Menzel invited America's best glee clubs, choirs and groups to compete for their own brush with greatness. The "Dove Hair Care Brush with Greatness Sing4All" video contest will give one team a once-in-a-lifetime opportunity to perform the iconic Rodgers & Hammerstein song "My Favorite Things", live onstage at the Radio City Christmas Spectacular on December 28, 2010. During this Twitter Party, we will encourage viewers to vote for their favorite of the final four videos at DoveSing4All.com and help Dove pick the Grand Prize Winners. The winning team will be announced on December 22.
NO RSVP required for the Twitter Party. Just join in on fun on this Sunday December 19th using #Brushwithgreatness
Party Details:
Date: Sunday, December 19th
Time: 7 – 8 PM EST
Hashtag: #BrushWithGreatness
Hosts: @mrslillianpucci, @dove, @rocket_xl
How to enter for a chance to win: Simply follow @mrslillianpucci,@dove, @rocket_xl and join the Twitter Party conversation (using hashtag #BrushwithGreatness) to have a chance to win a Dove Favorite Things pack including: Sound of Music (SOM) Limited Edition Boxed Set, SOM Soundtrack, SOM Companion Guide and a full size bottle of NEW Dove Damage Therapy Energize Shampoo (estimated retail value of $200). Every 15 minutes there will be a randomly selected winner tweeting with #BrushwithGreatness (for a total of 4 winners from 7-8PM EST) announced to receive a Dove Favorite Things pack!
Giveaway Disclaimer: Every 15 minutes (at 7:15PM, 7:30PM, 7:45PM, 8:00PM -EST) First Class Fashionista will be randomly selecting a winner to receive a Dove Favorite things pack. No purchase necessary. A purchase will not improve your chance of winning. Open to legal U.S./D.C. residents 18+. Void where prohibited. Ends 12/19. For rules read:Dove Favorite Things Giveaway Rule
Dove Favorite Things Package Contents:
– Dove® Damage Therapy Shampoo
– Sound of Music Boxed Set
– Sound of Music Soundtrack
-Sound of Music Companion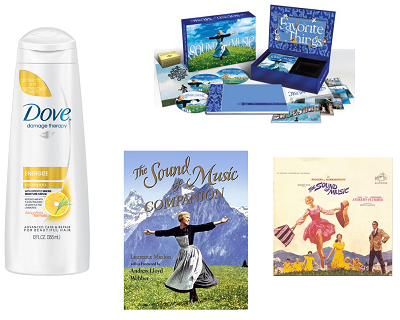 *FTC Disclaimer: *Dove is the sponsor and is providing prizing. First Class Fashionista (the Sponsor and host of this Twitter party) is not being paid to participate in this campaign, but will be receiving a Dove Favorite Things prize pack.
Dove Hair Care Brush with Greatness Twitter Party Hosted by FirstClassFashionista.com
Cheers to all of us thieves!
26. Whose responses to Stealing do you want to read the most?
Hootin Anni of course. Well, and Thom, Bud, Kathy and a few more friends. It's hard to name everyone so just consider yourself on the list. Unless you're a creeper.
27. What color shirt are you wearing?
Black
28. Do you like sleeping on satin sheets?
Sateen is more my style.
29. Can you whistle?
Yepper
30. Favorite colors(s)?
Blue
31. Could you be a pirate?
I'm a girl.
32. What songs do you sing in the shower?
I don't
33. Favorite girls name?
Harriet
34. Favorite boy's name?
George Clooney
35. What's in your pocket right now?
Don't have one
36. Last thing that made you laugh?
Stupid dogs playing
37. Best bed sheets as a child?
There was only one kind- white polyester blend- when I was a child.
38. Worst injury you've ever had?
Freakin' c-section
39. Do you love where you live?
nada
40. How many TVs do you have in your house? How many HDTVs?
Good gravy…I have no idea…
41. Who is your loudest friend?
Thom. I can hear him half way around the world.
42. How many dogs do you have?
dos
43. Does anyone have a crush on you?
dos perro
44. What are the most fun things you ever did?
Make fun of meme writers who did their English incorrectly.
45. What are your favorite books?
Balanced ones
47. Favorite Team?
Depends on the season….
48. What songs do you want played at your funeral?
CRAP…you just asked this one 3 times in the last six months. Are you planning something????
49. What were you doing at 12 AM?
Are you one crack? I' old. What do old people do at 12am Einstein?
50. What was the first thing you thought of when you woke up?
Easy- Einstein

Google+ Comments