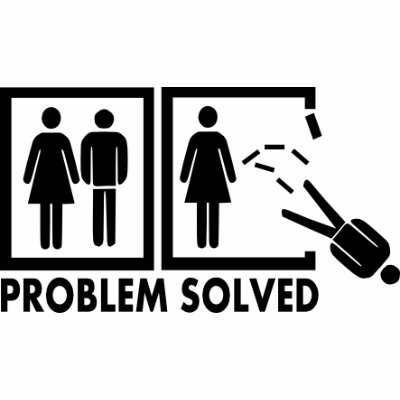 Thought this was cute…
The Frisky says 6 reasons to blow someone off
1. Aggression
If someone is aggressive, emotionally or physically, talking to them about it will probably only provoke them.
2. Crossed boundaries
If you've said to someone explicitly, "I don't like it when you do/say [insert disrespectful thing here]," and they continue to do it anyway, don't hesitate to fade away.
3. Reciprocation
If a person doesn't reciprocate on a regular basis, take a hint.
If they cancel plans multiple times, rarely return communication, don't ever contact you. Don't waste your time. They're probably blowing you off.
4. It's not them, it's you
If your real explanation for why you don't want to see them ever again is long-winded, complicated, and indicative of your own personal issues, it may not be worth the hassle of explaining it to them.
Leave that poor, functional person alone.
5. They just don't get it
Some people are emotional idiots and at some point, after trying your darnedest, you'll just have to give up. If this person doesn't accept genuine apologies, is not open to talking about things and working them out, makes unreasonable demands without offering anything in return, or has already been asked never to speak to you again and they're still not "getting it," they're probably never going to.
6. You're scared
If they've said or done something that totally creeps you out, feel free to hit the deck.
Hey ALOHA FRIENDS-
Have you ever had to "blow someone off"?
Why and how did you do it?
I recently had to 'say good-bye' to a client because I just didn't like the way he did business……
His behavior was not worth the money to me.
Today we picked KISS.
1. DETROIT ROCK CITY: "You gotta lose your mind in Detroit Rock City, Get up
Everybody's gonna move their feet, Get down, Everybody's gonna leave their seat"
Have you ever been in a line dance or group dance? What was it?
Lord, I hope not…
2. BLACK DIAMOND: "Out on the streets for a living, Picture's only begun, Your day is sorrow and madness, Got you under their thumb"
What would be the worst change in your life right now?
You mean besides, "the Change" ?
3. DEUCE: "Baby, if you're feeling good, Yes, baby, if you're feeling nice, You know your man is workin' hard, He's worth a deuce"
When was the last time you got a tip?
Not sure I have gotten one… or at least something I'd call a "tip"
4. STRUTTER: "She wears her satin like a lady, She gets her way just like a child. You take her home and she says, "Maybe, come on, baby", She puts you down and drives you wild"
Do you know someone who easily manipulates others?
Oh yeah…
5. I WAS MADE FOR LOVIN YOU: "Tonight I wanna see it in your eyes, Feel the magic, there's something that drives me wild. And tonight we're gonna make it all come true, 'Cause girl, you were made for me, And girl, I was made for you"
What was the last thing you saw in someone's eyes?
"feed me" it's about 6pm and the dogs have woken up to remind me it's almost feeding time.
6. LICK IT UP: "Dont need to wait for an invitation, You gotta live like youre on vacation. Theres something sweet you cant buy with money – lick it up, lick it up, Its all you need, so believe me honey, It aint a crime to be good to yourself"
When was the last time you treated yourself to something special?
Bargain hunted yesterday with F.L. #2.
7. LOVE GUN: "I'll be a gambler, Baby, Lay down the bet. We'll get together, Mama…You'll sweat"
When was the last time you gambled?
Not sure I really have…
can you say 'boring'?
8. HARD LUCK WOMAN: "I keep telling you hard luck woman, You ain't a hard luck woman
You'll be a hard luck woman, Baby, till you find your man"
Do you have hard luck, good luck or no luck lately?
I'm just grateful and I believe in Karma.
9. GOD OF THUNDER: "I was born on Olympus, To my father a son, I was raised by the demons (she laughs), Trained to reign as the one"
Who is your favorite super hero?
10. BETH: "Just a few more hours, And I'll be right home to you, I think I hear them callin'
Oh, beth what can I do? Beth what can I do?"
What was the last reason you were late or detained?
When someone else was involved in me getting there.
11. CALLIN DOCTOR LOVE: "And even though I'm full of sin, In the end you'll let me in
You'll let me through, there's nothin' you can do, You need my lovin', don't you know it's true"
What can you do that helps other people?
I can entertain them on my site. right?
12. I PLEDGE ALLEGIANCE TO THE STATE OF ROCK N ROLL: "I gave my blood and I gave my soul
I stood my ground and I took control, The legend's growin' as the story's told, I pledge allegiance to the state of Rock 'n Roll"
What would you pledge allegiance to if given a choice?
The United States of America- hello?
13. CRAZY CRAZY NIGHTS: "And they try to tell us that we don't belong, But that's alright, we're millions strong, You are my people, you are my crowd, This is our music, we love it loud"
Are you a member of a group, (church, hobby group, civic group, network)?
Isn't this profiling?
Google+ Comments