Did you hear about this?
Bloggers Take on Hunger
It's hard to believe that hunger is still an issue.
According to the USDA, 50 million people, or 16.6 percent of Americans, live in households at risk of hunger. The Supplementary Nutrition Assistance Program (SNAP), or food stamps, now puts food on the table for one in seven Americans. A family of three (one adult, two kids) earning more than $23,900 would not be eligible for food stamps. Over 18 million children receive SNAP benefits.
The new documentary, "Hunger Hits Home," explores the crisis of childhood hunger in America through the eyes of the parents, children, anti-hunger activists, educators and politicians on the front lines of the battle. The film, which premieres April 14, is part of Food Network's ongoing partnership with Share Our Strength's No Kid Hungry Campaign to end childhood hunger in America by 2015.
Find out more about the campaign and take the pledge.

………………….
Aloha People- what are your thoughts about the Titanic re-release and all of the hype surrounding it?
I cannot even tell you how man times I've seen that movie both in the theater and on cable. I'm kind of sick of the movie however, the National Geographic/Discovery shows have been really interesting.
……………………
How it Works

• On the linky below, enter your name and what you are linking to. For example, Posh-GFC, Mel-Twitter

• If you have more than one page to link to, go ahead and post them all separately.

• Linking to a giveaway post specifically is viewed as spam, and as such, will be deleted just as spam will.

• Under 100 GFC Followers? Under 200 Twitter? Under 200 Facebook Page likes? Under 50 in your circle? Please add "low" next to your name so we know to help you out!

• YES, you can link to your hop. You may want to add "linky" next to it.

• Make a goal to visit 5 others, like/friend them, and then leave a comment telling them hello.

• Thursday Comment Club has been merged to Friday and Tuesday Friend and Follow. Feel free to list "comment" on your entry (as long as it is NOT for a giveaway of course)

***TIP: Blogger Users- The changes to the blogger word verification has made it difficult for others to post comments. Turn off your word verification and you'll most likely get more comments! ***

Thanks for joining us!
Please visit this hop as well!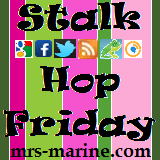 Have fun!
~ Thanks for the follow! 🙂
Google+ Comments