This is really an iffy thing because dogs have to want and like these to want to wear them. Otherwise, they'll figure our how to get them off.
On the other side of the coin, my schnauzer loves to run around in the snow. As a result, she gets clumps of snow stuck in her leg fur. Also, we walk our dogs all the time and this time of year, people put down salt on their driveways. The salt is a problem for paw pads.
Wearing dog socks can eliminate or lessen the burden of these winter problems for our dogs.
About these socks:
Dog Socks with Rubberized Soles
Dog socks
Rubberized soles along bottom
Protect paws
Prevent slipping as pets run
Multiple Sizes
Multiple Colors
Fits smaller breeds and puppies
Dog Socks with Rubberized Soles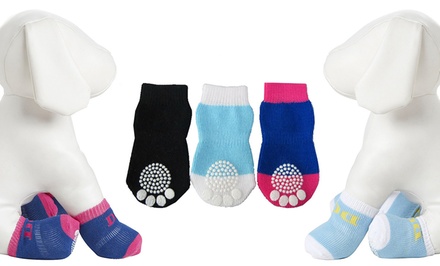 Dog Socks with Rubberized Soles. Multiple Styles. Free Returns.
Google+ Comments