We have many retractable leashes in our house.
They last about a year- with use of several times a day.
Finding one for $9.99 that comes with a flashlight is a good deal.
I'm use to spending way more than that especially for weights more than 45 pounds. This one is good for 110.
So here is the scoop on this:
Retractable Dog Leash with Light
This 15′ leash helps pet owners comfortably control their dogs with a heavy-duty strap and easy-to-use braking and retracting system, and allows for safer nighttime walks with a bright LED light.
15′ retractable, belt-style leash
Designed to handle dogs up to 110 lb.
Heavy-duty ABS strap
Chrome snap hook for a secure hold
One-hand operated braking and retracting system
Handle with a comfortable grip
Built-in LED light
Ergonomically designed for comfort
Dimensions: 6″x4.5″x1″
Retractable Dog Leash with Light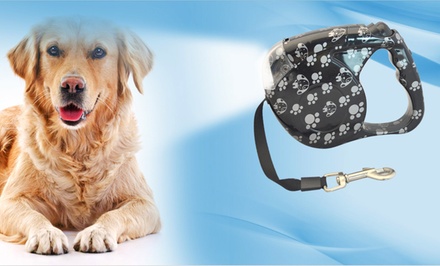 Retractable Dog Leash with Light. Multiple Designs Available. Free Returns.