Pet Deal of the Day- $4.99 Lamb Chop Chew Toy
Personally, I was a huge fan of Lamb Chop and I think Shari Lewis was a charm.
Multipet Lamb Chop Chew Toy is something my dogs would love.
When your dog gnaws on this Lamb Chop chew toy, he's playing with a part of television history. The toy is painstakingly modeled after the iconic puppet made famous by Shari Lewis, and it comes complete with details such as fluffy eyelashes, red paws, and the subtle scent of mint jelly that always seems to accompany lamb chops. Instead of a puppet cavity, however, this toy contains a squeaker designed to pique your pooch's interest.
Plush chew toy for dogs
Shaped like the popular puppet Lamb Chop
Internal squeaker
Dimensions: 10″ (L) x 3″ (W) x 4″ (H); 3 oz.
Lamb Chop Chew Toy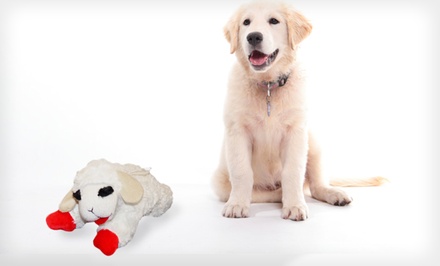 Lamb Chop Chew Toy. Free Returns.
Google+ Comments