I hate to see the larger breeds suffer with hip issues as they age. Sometimes, my older mix fella would rather just sit there are bark rather than let the UPS guy see that he is protecting the house.
This is why I think a dog ramp is a good idea.
This lightweight and sturdy pet ramp creates accessible routes to cars, beds, or sofas and folds for ease of carrying.
I think my dog may need this just to get into the pool this summer. He loves to swim and getting in and out of the pool became a problem last summer.
Pets strut up and down this portable gangway with all the vigor and vim of oil barons boarding their private yachts. The ramp sidles up to car trunks, beds, and low treehouses, all the while helping to prevent pets from injuring themselves with overzealous jumps. It's ideal for larger pets, who may be hard to carry, as well as smaller breeds that have trouble achieving lofty heights. When not in use, the lightweight ramp folds for maximum portability.
High-traction pet ramp
Reaches heights up to about 24″
Folding design
Rubber feet
Safety release latch prevents accidental opening
Supports approximately 200 lbs.
Plastic construction
Weight: 10 lbs.
62″ (L) x 16″ (W) x 4″ (H)
Solvit UltraLite Bi-Fold Pet Ramp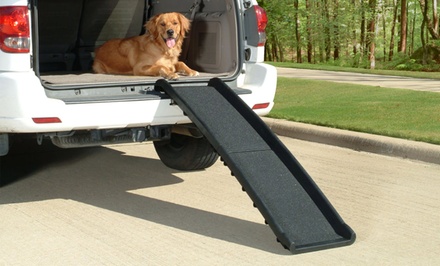 Solvit UltraLite Bi-Fold Pet Ramp. Free Returns.
Google+ Comments