I have a problem every time I take my schnauzer with me in my car.

She weighs 28 pounds and sets off my seat belt alert every time she sits on a seat.
I have tried belting her in the seat but, we all know how dogs appreciate that kind of restraint.
I've been looking for a seat belt that is specifically for dogs.
Finally, I found one.
Zerimax Doggie Seat Belt
Polypropylene seat belt with adjustable straps snaps into standard seat buckle to keep small dogs safe and secure in the car
When Melissa Ramirez's husband was in a car accident, airbags and a seat belt kept him safe, but Max, their miniature pinscher, suffered a severe spinal injury. Four hours of intensive surgery, months of therapy, and thousands of dollars later, Max was back on his feet, and Melissa was determined to keep him—and dogs everywhere—that way.
So, she invented the Zerimax doggie seat belt, which latches your pup's harness (not included) securely to a seat buckle. Much like a leash, the belt keeps your pooch comfy thanks to an adjustable lead that provides security without pinning the dog in place. The contraption is forged from 100% polypropylene—the same material used in auto racing, climbing, parachuting, and fashioning realistic superhero costumes for Comic-Con.
Features
Easy-to-use doggie seat belt buckles into back seat
Comfortably secures dogs or ostrich eggs weighing up to 25 pounds
Works in conjunction with a dog harness (not included)
100% polypropylene belt
Adjustable length
Strong metal clasp
Eco-friendly packaging
Dimensions: 12.25"x4.5"
Zerimax Doggie Seat Belt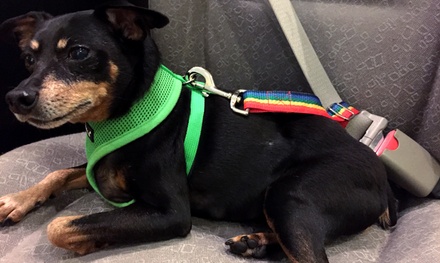 Zerimax Doggie Seat Belt
Google+ Comments