Saturday 9: Jump (1984)
Seriously? 1984?
1) David Lee Roth does a lot of jumping in this video. He credits his flashy moves to his study with marital artist Benny Urquidez. Have you ever tried karate, judo, or jiu-jitzu?
I went to two judo classes as a kid and then quit.
2) Dave claims to be fluent in Spanish. Say something "en español."
No Habla.
3) Dave appeared as himself in an episode of The Sopranos, playing poker with Tony Soprano. Are you a good poker player?
Ah no.
But, I did watch the Sopranos. I did a summer binge and watched the whole season.
4) Though known for his prowess on the guitar, Eddie Van Halen wrote the opening of this song at the keyboard when he was still new to the synthesizer. When do you recently venture outside your comfort zone? Was it a success?
I walked with my friend this morning and some of the streets that we were walking on still had snow/ice on them. We decided to switch to the sidewalks instead. However, it warmed up today and we had some sunshine. The streets have cleared up for the most part. And, really, do you care?
5) Eddie's older brother Alex is the Van Halen drummer and his son, Wolfie, began touring with the band in 2007. Have you ever worked with a family member?
In my restaurant.
Wolfie likes to join his mom on that Food Network show. He's kind of a mama's boy in some ways.
6) Van Halen's first manger was Marshall Berle. Mr. Berle's uncle was Milton Berle. Does the name Milton Berle mean anything to you?
Uncle Miltie?
7) In 1984, when this song was popular, AT&T/Bell Telephone was broken up into 24 separate companies. Today, who is your phone provider?
AT&T mobile.
8) Also in 1984, Michael Jackson was severely burned while filming a Pepsi commercial. Would we find any Pepsi in your kitchen right now?
Uh no. This is Coke country.
9) Random question: Have you ever been so angry that you kicked or hit an inanimate object?
Like Clark Griswold?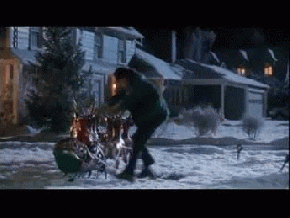 Anyone else fed up with the drama?
Google+ Comments